BE A BEACON OF LIGHT
MINISITRY
Jesus told us, his disciples, to make disciples of all nations.
We INVITE you to join one of our ministries and together we will grow, learn and enjoy our time together, knowing that we are followers of Jesus.
One of the important values of Lakeside Community Presbyterian Church (LCPC) is our mission to serve others.
It begins in our own community, and spreads throughout and to every nation.
Grow in your faith and become doers not just hearers of the Word. Come and share the love of Jesus by serving others because service to others demonstrates the love and compassion of Christ Jesus.
SERVE
All are welcomed and encouraged to get involve. Additionally, this is a great way to meet someone new.
You can
fold the church bulletin for Sunday services, be a prayer warrior, join the prayer quilters, hang out with the Ironmen, or G.I.F.T. ladies, volunteer at the monthly church work party, become a greeter Sunday morning, children's teacher, nursery attendant, volunteer in community events, serve or work in the kitchen for our Eat and Greet hot lunch events, or serve others downtown in the Ladle Fellowship program at First
Presbyterian Church of San Diego to name just a few.

VACATION BIBLE SCHOOL SATURDAY JULY 16
Welcome to LCPC one day Saturday Bible Boot Camp! The children will participate in age related groups. The one-day Bible camp is designed to encourage kids to get back to nature as they learn to walk with God. Parents are welcomed to participate with their child, if they so choose, or drop their child/children off. "Guides" our adult volunteers will share the story of the Good Samaritan, assist the children as they make awesome nature crafts, play games, sing songs, and possibly go on the "Great Adventure Hike" which includes water play, around the church grounds as they make discoveries about God. At the conclusion of the Saturday VBS, we will have a hamburger & hot dog BBQ for the children, parents, volunteers, and the church congregation. Registration will begin in June.
SUNDAY SCHOOL CLASS
Discipleship Explored helps followers of
Jesus turn up the gospel
soundtrack to
their lives. It goes beyond simply
teaching the right moves –
go to church,
pray, read the Bible, share the gospel – and focuses on the
music which drives discipleship: the love of Christ. The
greatest love anyone
This eight-session journey through Paul's letter to the
Philippians is ideal
for believers at any stage of the Christian
life. It features brand-new
documentary-style films and
inspiring real-life stories from around the world.
You may view more information including the course outline,
and an introductory video at the website:
Men's Bible Study Monday's at 7pm
Women's Bible Study Monday's at 3pm
HOME BIBLE STUDY GROUP –
Contact the church if you are interested in hosting a Bible Study.
Call the Church Office for more information on opportunities to grow in God's Word.
EAT & GREET MINISTRY

Community outreach opportunity
last Sunday of each month. All are welcomed to enjoy a hot lunch, fellowship and games.
A bag of non-perishable food is given to each household.
Fellowship Hall at 12:15pm
LCPC provides a free hot lunch to all in the community. This is a time to get to know your neighbor, talk, listen, encourage and share the love of Christ.
We begin with an opening prayer, small devotional, food, conversation, and games. The games can be cards, Bingo, Domino's or sometimes live entertainment!
Please consider volunteering your time to feed the community
MEN's MINISTRY – Ironmen
"As Iron Sharpens Iron so one man sharpens another" Proverbs 27:17
IRONMEN is a group for the men (young and old) from our community & church family. As friends and members of the Christian community, we meet monthly. We learn from each other, share a meal, grow from a Biblical perspective, and have fun. In the past we have gone bowling, trap shooting, toured navel ships, attended Padres games, and watched football together as we ate our way through all 4 quarters! All men, from teenagers to seniors, are invited to be a part of this fellowship. Generally we meet one Sunday a month for breakfast and devotional time in the Fellowship Hall unless we have a planned event.
All men are welcome and encouraged to bring a friend.
WOMEN's MINISTRY – Growing In Faith Together
The women get together for fellowship, service to others, and Bible Studies.
Some of our events are: community service events, Secret Sisters breakfast, Friendship Tea, Women's Retreat, pizza and movie nights.
All women are welcomed and encouraged to bring a friend.
SENIORS MINISTRY – Young @ Heart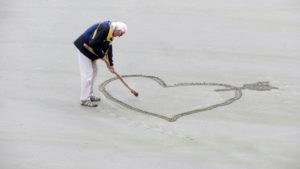 Whether you consider yourself a senior citizen, or an early retiree, we invite you to join us for our monthly events. Typically we get together in Rooms 1 and 2, for a brief devotional or Bible lesson, themed lunch, movie or play cards. Canasta, Ino, or Bridge anyone? Together we share our Valentine stories, participate in luau's, Fourth of July parties, and Christmas white elephant exchanges.
Monthly events, check with the church or calendar for next get together.
Missional Outreach
LCPC is thrilled to be part of the spread of God's kingdom around the world. We are active in sending missionaries and supporting these missionaries with our money and with our prayers. We support multiple missionaries around the world, from San Diego to Florida, Africa, Mexico, and Malaysia. We encourage all of our people to respond to God's call for laborers, whether it means they move to a foreign country, or minister in our own community.