Lakeside Presbyterian Children's Center
619-443-2887
Office open Monday-Friday, 8:30 am- 4 pm
Teaching and Caring for children in Lakeside
since 1953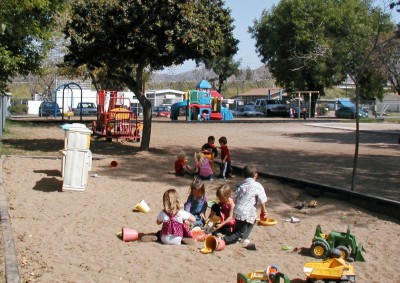 School Philosophy
Lakeside Presbyterian Children's Center is a church-sponsored childcare program dedicated to serving children and their families in the area for almost 60 years. With this established commitment to children we continue to provide an educational program that considers all the developmental needs of your child in a loving, open environment with planned activities, guidance and security. Our main goal is to stimulate your child's interest; enhance their self-esteem; and encourage their development in all aspects of their growth – physical, social, emotional, cognitive and spiritual.
School Program & Staff
Our teaching staff is well qualified by education experience in working with children of a variety of ages. It is the goal of our staff to help your child develop self-esteem and satisfying relationships with people outside the home.
Lakeside Presbyterian Childcare Center is licensed by the State of California Department of Health, License number 370800323 and is a member of the Church Related Early Childhood Fellowship of San Diego County.
Admissions
Full-day and Half-day programs are available to children ages 2 to 5 years with Extended Care for school children through age 9.
Application
You and your child are invited to visit our school to become familiar with our curriculum. Please contact the office to arrange your visit 619-443-2887.