Lakeside Community Presbyterian Church History
In 1886, Lakeside was established as a town site. The Lakeside Inn was completed and Lakeside soon became a popular resort. During the 1890's, a group of Christians started meeting on the porch of the Lakeside Inn. The First Presbyterian Church of Lakeside was established on March 12, 1893, with 13 members as authorized by the Presbytery of Los Angeles. In 1895, Miss Hattie French of San Diego made a donation of $500 to erect a meeting place for our congregation, now 30 members strong. Land at the corner of Parkside and Maine was bought for $10.00 and the first church building was constructed. Dedication was held on March 29, 1896.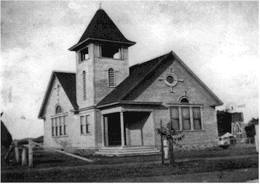 On June 3, 1904, the first official ministerial call was extended to the Rev. Charles H. Abernathy with a salary of $1500 per year. (From 1893 until this time, pastors were often stated supply coming from the El Cajon Church, the Rev. D.E. Ambrose being the first in 1893.)
The years 1910 to 1920 were ones of up and down growth and financial instability. Ten pastors came and left.
On April 16, 1919 a Victory Bell Movement was started, and our church was the first in the country. (A bronze tablet in the old church recognizes this fact.) Every day at noon during World War I, the bell would be rung seven times for the seven letters in "VICTORY". The Presbyterian women gathered for peace prayers. This practice continued across the U.S. in many communities until the war ended.
The first choir was started in November, 1927. The 1930's saw difficult years and recovery from depression. The Reverends Nalbach, Wichman and Adams served during the years of 1935 to 1945.
In January, 1948, the church name changed from First Presbyterian to Lakeside Community Presbyterian Church. The Rev. Theoderic E. Roberts pastorate from March 13, 1949, until his retirement on June 1, 1981.
The land on Channel Road was purchased in 1952. The Lakeside Children's Center was opened in 1953 and the first buildings on Channel Road were completed in 1954. The Lakeside Presbyterian Retreat was founded in 1959.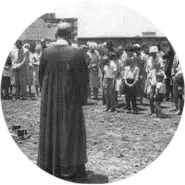 1962 saw the ground breaking for the new Sanctuary on Channel Road. The first service of worship was held in the new building was on January 13, 1963.
In 1981, Rev. Ted Roberts retired after 32 years as pastor. The Rev. Bill Koch was called as pastor on July 11, 1982, but stayed only fourteen months.
On March 1st, 1984, the Rev. Robert (Bob) W. Mentze became stated supply pastor and on June 2, 1985 was installed as called pastor and Bob served as the longest pastorate in our church's history. In 1997, the church celebrated Pastor Bob's awarding of his Doctor of Ministry degree. Pastor Bob's last sermon was July 29, 2018 and official retirement September 2018. His devotion to shepherding and teaching brought many to the Lord and provided a strong Christian foundation to multiple generations.
Pastor Randy Yenter, was a shear delight as the interim pastor for 2018-2020. Pastor Randy brought spiritual wisdom, counseling, humor, and tenderness to our church. We were saddened to have to accept his resignation in May 2020, but it was understandable due to Pastor Randy's health issues. LCPC was once again blessed with another outstanding interim pastor, Reverend Alan Deuel. Rev. Alan's leadership guidance and shepherding led us through seven months of Covid-19, remote and outdoor services, and through the transition of hiring our new full time permanent pastor, Tim Avazian, beginning November 2020.
Today, the church continues to stress a strong Christian Education program with Sunday School classes for all ages, including adults, Bible Studies, youth groups and men's and women's ministries, as well as many outreach events.