LCPC MISSION STATEMENT
"Therefore go and make disciples of all nations, baptizing them in the name of the Father and of the Son and of the Holy Spirit, and teaching them to obey everything I have commanded you…" (Matthew 28:19-20)
LCPC VISION STATEMENT
We are a vibrant church growing in love for Jesus Christ
who seek to make a difference through worship, community, and service.
LATEST UPDATES
JOIN US FOR "EAT AND GREET" LCPC FREE COMMUNITY LUNCHEON
We will be doing "Eat and Greet" on the third Sundays IN December, due to the holidays.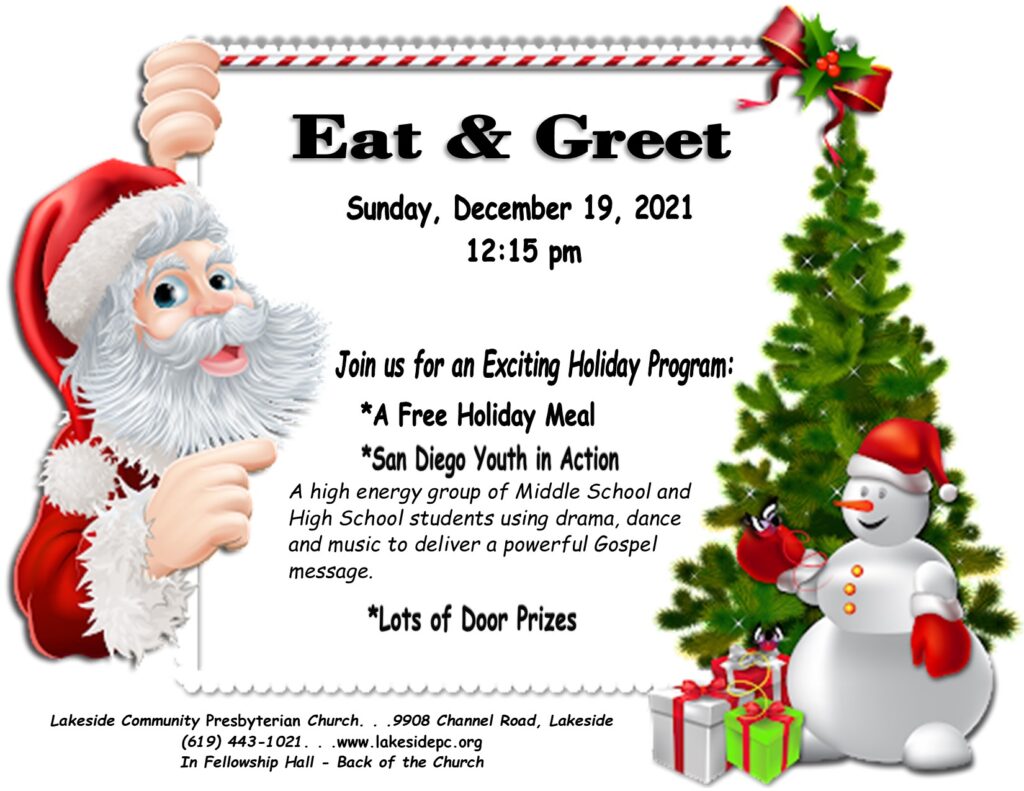 EAT & GREET is the free community luncheon.
Join us December 19 at 12:15 PM for our special Christmas luncheon.
If you would like to help with setting up, serving, or cleaning, contact the church office, or Gary MacDonald, Suzy Smith, or Michael McKnight. Most importantly, come and enjoy the meal with our guests, and please help us to spread the Word!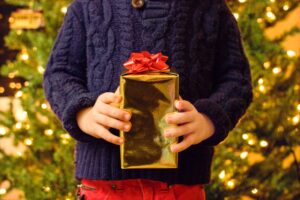 SPIRIT OF CHRISTMAS ON MAINE AVE.
Lakeside's "Spirit of Christmas" on Maine Ave is Saturday December 4. This year, LCPC will assist the Lakeside Historical Society with their sale. The Historical Society is very excited that we are willing to help during the Spirit of Christmas event (anytime between 3:30PM and 8:00PM). Please consider signing up after church on the patio. If you have never been to Lakeside's Christmas event, you have missed a very special time, so this year consider joining other LCPC members and volunteer at the Lakeside Historical Society and afterwards enjoy the music, food and entertainment!
M.O.M CHRISTMAS STORE
The Military Outreach Ministries has invited LCPC to host one of its Christmas stores for junior enlisted military families. The event is planned for the late afternoon and evening of Tuesday, December 14th.
The Christmas store is for two housing units in Lakeside: Woodlake and Eucalyptus Ridge, plus the housing facility in Ramona. Once again, Sioux Swart and her crew will give horse-drawn wagon rides. MOM will furnish all the gift items and will organize the running of the store. Church volunteers will be needed for set-up, helping families with shopping, childcare (and craft time), light refreshments, and clean-up. We will need volunteers for 2 to 3 hour shifts. There will be sign up opportunities on the patio. Please keep Tues., Dec 14th in mind to help with this worthy project to support our military personnel and their families. If you have helped in the past, you know it is a heart-warming experience and also fun! Please contact Sioux Swart or Jolene Rich with any questions or to volunteer!
HELPS CENTER TOY DRIVE
The Christian Helps Center is holding their annual Christmas Toy Distribution on Saturday, December 18, 1-3PM at Rise City Church. Families will be able to sign up at the HELPS Center for assistance, starting November 29th – December 15th, Mondays and Wednesdays, 9am – 11am. This outreach is specifically for people who live in Lakeside or attend a Lakeside school or church and need help with Christmas gifts for their children. Toy donations can be dropped of at Rise City on Sundays through Dec. 12th, between 8:45am and 12 noon, or on Friday, Dec 17th, between 11am and 2pm. If you would like to volunteer with the distribution, please see Michael McKnight for more information.
YOUNG AT HEART CHRISTMAS TEA & WHITE ELEPHANT EXCHANGE-
Friday December 17, 2:00 – 4:00 pm. Christmas treats will be served accompanied by the usual lemonade, Ice-tea, coffee, water and hot tea, cocoa, and apple cider. Please bring a dessert/treat to share. Following our tea we will have a White Elephant Exchange. A White Elephant is any small, often old, item that you have around the house that you want to gift to someone else. Please bring a gift from each person in your party for the Exchange. Please Sign-up today on the Patio during Fellowship time. Questions: contact Gary MacDonald or the church office.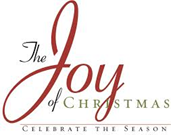 LCPC
offers indoor worship along with live streaming.
Masks are required for non-vaccinated and recommended for vaccinated when indoors.
LAKESIDE COMMUNITY PRESBYTERIAN CHURCH
9908 Channel Road, Lakeside, CA 92040
619-443-1021
www.lakesidepc.org
Email: office@lakesidepc.org
Rev. Timothy Avazian (Tim)
Worship Service begins at 9:45 AM
Nursery open with two adult attendants
Children's Sunday School during Service
Adult Sunday School at 11 AM
Fellowship time will take place BEFORE & AFTER our Worship Service!
Come for complimentary coffee, at 9:30 am.
Questions or needing spiritual support. Please email us at office@lakesidepc.org,
call us at 619 443-1021, or complete an online prayer request.
PRAYER
"Rejoice always, pray continually, give thanks in all circumstances;
for this is God's will for you in Christ Jesus."
1 Thessalonians 5:16-18
Please visit our prayer page and lift up the prayer requests sent to us via our website then click on the praying hand to encourage those seeking our good and gracious Father through intercessory prayer by the people of God.
If you would like prayer, after the worship service, Elders and Deacons will be available for prayer.
OPPORTUNITIES TO STUDY THE WORD
(For the safety of all: masks required for unvaccinated &
strongly encouraged for vaccinated when indoors)
BIBLE STUDY WITH THE PASTOR
WOMEN'S BIBLE STUDY, "Book of Esther
Pastor's Office & via Zoom
MEN'S BIBLE STUDY, "The Measure of a Man, twenty attributes of a godly man"
1st & 3rd Monday of the Month
FRIDAY EVENING HOME BIBLE STUDY,
"The Gospel of Life" by Timothy Keller
Contact the Church for location
COVID PROTOCOLS
(on-campus Worship service)
To ensure LCPC takes the utmost care and precautions for the safety of all, attending the worship service will require everyone's cooperation.
Review Questionnaire regarding Covid-19 risk (see below)

Masks – must be

pro

perly

worn for those NOT VACCINATED. This is on the honor system, no verification will be asked. We encourage vaccinated to wear a mask when indoors due to the resurgence of Covid-19 Delta variance.

Sign-in, provide your first & last name only, to a volunteer Greeter.
Questionnaire – If you answer yes to any question, we kindly request you remain at home until all responses are "no".
Have you or anyone in you household had any of the following symptoms in the last 14 days: sore throat, cough, chills, body aches for unknown reasons, shortness of breath for unknown reasons, loss of smell, loss of taste, congestion or runny nose, nausea or vomiting or diarrhea?
Have you or anyone in your household have a fever at or greater than 100.4 F in the past 14 days?
Have you or anyone in your household care for an individual who is in quarantine or is a presumptive positive or has tested positive for Covid-19?
Do you have any reason to believe you or anyone in your household has been exposed to or acquired Covid-19?
To the best of your knowledge have you been in close proximity (6ft) for at least 5 minutes to any individual who tested positive for Covid-19?
Questions were derived from the CDC, Mayo Clinic and the American Medical Association