LATEST UPDATES
Welcome! We are glad that you are here today. We invite you, family, and neighbors to Worship with us.
SPECIAL SUNDAY, MARCH 19 -VISIT OUR FACEBOOK OR INSTAGRAM TO VIEW PHOTOS FROM OUR 130 YEARS (1ST CHURCH IN LAKESIDE). THANK YOU TO REV. DR. ROBERT (BOB) MENTZE AND EXECUTIVE DIRECTOR OF SAN DIEGO PRESBYTERY REV. DR. SEAN CHOW FOR SHARING THIS SPECIAL CELEBRATION WITH US.
♥♥♥
SMALL GROUPS – JOIN US ANYTIME
ADULT SUNDAY SMALL GROUP CLASS –
The Case for Easter

by Leo Strobel
Sunday Room 1 & 2 at 11:00 AM. The Case for Easter, author Leo Strobel examines.
The Medical Evidence, The Evidence of the Missing Body, The Evidence of Appearances. The evidence is in. The verdict is up to you.
MEN'S SMALL GROUP STUDY
Monday of the month at 7:00pm.

Essential Truths of the Christian Faith

by R.C. Sproul.
WOMEN'S SMALL GROUP STUDY
New Women's Bible Study begins this Monday, March 6th: The Rock, the Road, and the Rabbi.
Join us (newcomers always welcomed) for the next six weeks each Monday at 3:00pm in the Pastor's Office, as we explore the land of Jesus where it all began. Using a video series, "the Rock, the Road, and the Rabbi, with Kathie Lee and Messianic Rabbi, Jason Sobel, we will see scripture come alive as we examine the true texts of the Bible. As the study reveals, Jesus (the Rock) came into the world and walked the lands of Israel (the Road) to show us the way to God. We will be introduced to the mysteries of God's Word (the Rabbi) and understand it in the context in which it was written. Please join us as we renew our hearts and minds to the radical transformation that only Jesus brings to the world.
♥♥♥
Mar. 26th @ 12:15PM lunch, refreshment, devotional, BINGO, and a complimentary pantry bag of non-perishable food. We have bags that require a kitchen and bags that do not require a kitchen. Please considering coming and invite a friend.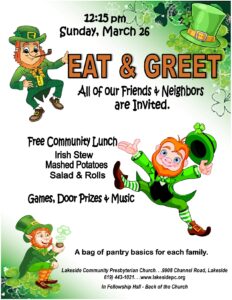 Sunday Worship Service begins at 9:45 AM
Children's Sunday School during Service
Adult Sunday School at 11 AM
Complimentary coffee,
BEFORE & AFTER our Worship Service!
PRAYER
"Rejoice always, pray continually, give thanks in all circumstances;
for this is God's will for you in Christ Jesus."
1 Thessalonians 5:16-18
Please visit our prayer page and lift up the prayer requests sent to us via our website then click on the praying hand to encourage those seeking our good and gracious Father through intercessory prayer by the people of God.
If you would like prayer, after the worship service, Elders and Deacons will be available for prayer.
LCPC MISSION STATEMENT
"We Love God, Love People, and Make Disciples of Jesus"
LCPC VISION STATEMENT
"Growing in love for Christ and for our neighbors

through.
worship, community, and service."
LAKESIDE COMMUNITY PRESBYTERIAN CHURCH
9908 Channel Road, Lakeside, CA 92040
619-443-1021
www.lakesidepc.org
Email: office@lakesidepc.org
Rev. Timothy Avazian (Tim)
Questions or needing spiritual support. Please email us at office@lakesidepc.org,
call us at 619 443-1021 or complete an online prayer request.