LCPC MISSION STATEMENT
"We Love God, Love People, and Make Disciples of Jesus"
LCPC VISION STATEMENT
"Growing in love for Christ and for our neighbors through
worship, community, and service."
LATEST UPDATES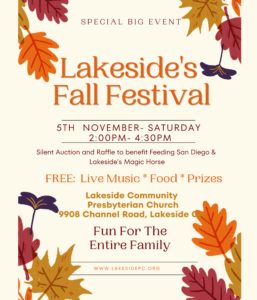 SAVE THE DATE!!!
NOVEMBER 5, SATURDAY 2PM TO 4:30PM
lAKESIDE COMMUNITY PRESBYTERIAN CHURCH PRESENTS
Live Music, food (from La Palapa restaurant)
Silent auction and Raffle with all proceeds to benefit

Feeding San Diego and The Magic Horse.
Bring a canned item and receive a raffle ticket.
CURRENT SUNDAY SERIES, "GOSPEL ACCORDING TO MARK"
ADULT SUNDAY SCHOOL CLASS –

PRAYER

by RC Sproul study
Room 1 & 2 at
11:00 AM
MEN'S BIBLE STUDY
Monday of the month at 7:00pm.

Essential Truths of the Christian Faith

by R.C. Sproul.
WOMEN'S BIBLE STUDY
Women's Bible Study will start up again on September 26th, in the Pastor's office at 3PM, with a five-week series,

The War Room

. With "humor and heart" the study explores the power prayer can have on friendships, marriages, parenting (or grandparenting), careers and every other area of our lives.
Oct 30th @ 12:15PM lunch, refreshment, devotional, BINGO, and a complimentary pantry bag of non-perishable food. We have bags that require a kitchen and a few limited bags that do not require a kitchen. Please considering coming and invite a friend.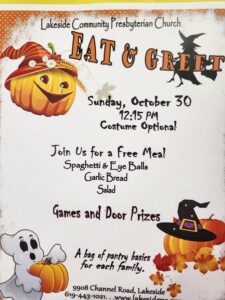 FRIDAY, OCTOBER 28
Young at Heart will be hosting a Halloween lunch. More details
in the weeks leading up to the event. Please mark your
calendars now to join us for a great meal and a spooktacular
time – Muahaha! For more information, contact the church office,
Gary MacDonald or Michael McKnight.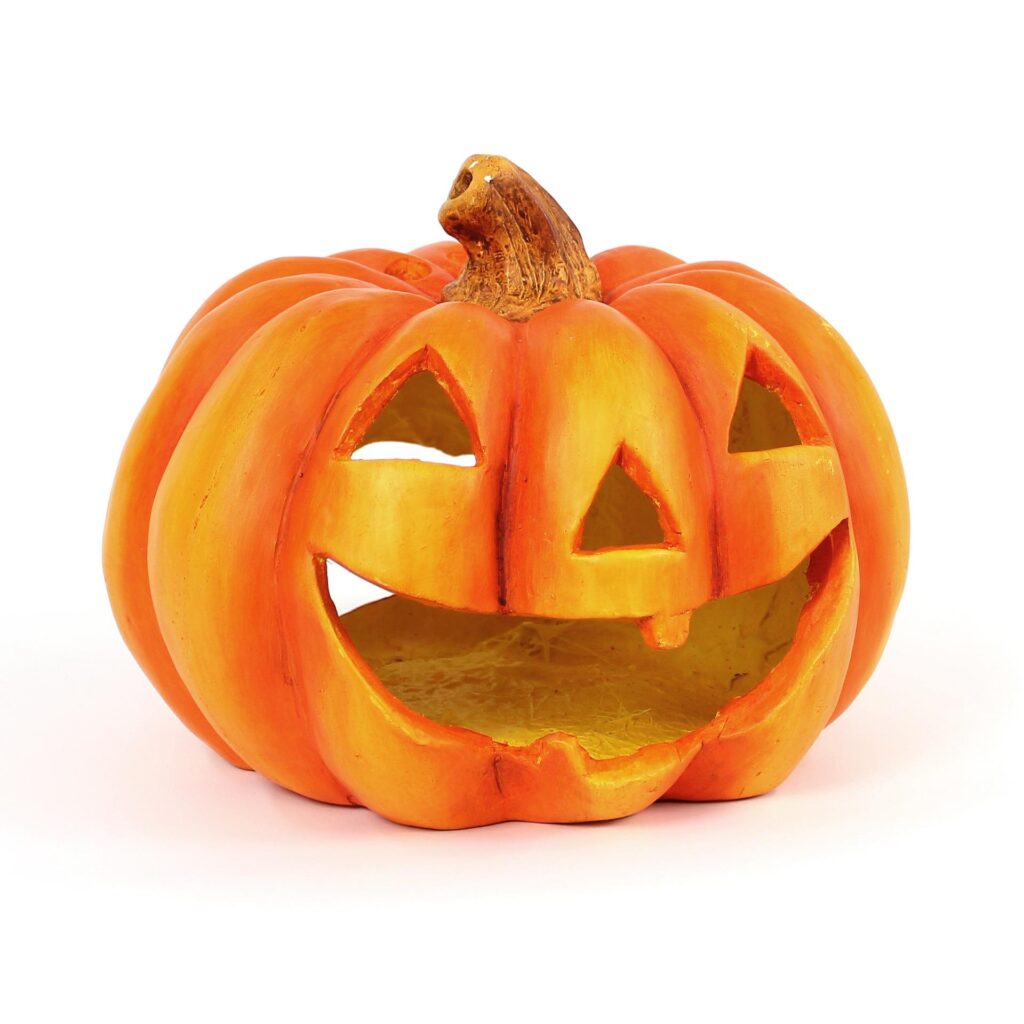 LCPC NEW MEMBER CLASS – Oct. 23 & 30
Interested in learning more about LCPC, about the Christian faith and what it means to be a member at LCPC? Then come and join the Pastor Tim and other church lead as we discuss the basics of the Christian faith and what it means to be a member at LCPC. There will be two
1-hour classes on Sunday, Oct 23 and 30 following the church service. A light lunch will be served to those participating. If you have questions or would like to sign-up, call the church office.
LCPC
offers indoor worship along with live streaming.
LAKESIDE COMMUNITY PRESBYTERIAN CHURCH
9908 Channel Road, Lakeside, CA 92040
619-443-1021
www.lakesidepc.org
Email: office@lakesidepc.org
Rev. Timothy Avazian (Tim)
Worship Service begins at 9:45 AM
Children's Sunday School during Service
Adult Sunday School at 11 AM
Complimentary coffee,
BEFORE & AFTER our Worship Service!
Questions or needing spiritual support. Please email us at office@lakesidepc.org,
call us at 619 443-1021, or complete an online prayer request.
PRAYER
"Rejoice always, pray continually, give thanks in all circumstances;
for this is God's will for you in Christ Jesus."
1 Thessalonians 5:16-18
Please visit our prayer page and lift up the prayer requests sent to us via our website then click on the praying hand to encourage those seeking our good and gracious Father through intercessory prayer by the people of God.
If you would like prayer, after the worship service, Elders and Deacons will be available for prayer.
OPPORTUNITIES TO STUDY THE WORD
(For the safety of all: we ask that masks be worn for unvaccinated
and vaccinated when indoors)
BIBLE STUDY WITH THE PASTOR