LATEST UPDATES
Welcome! We are glad that you are here today. We invite you, family, and neighbors to Worship with us.
Sermon Series – "Mastering the Basics- A Study of the Letters of John"
Our Sunday Worship sermon series is studying the letters of John. If you have ever wanted to know the essentials of the Christian faith or want to be refreshed on what we believe, this will be the series for you! You may also know a friend who would like to learn the basics, so be sure and invite them. We look forward to seeing you.
♥♥♥
SMALL GROUPS – JOIN US ANYTIME
ADULT SUNDAY SMALL GROUP CLASS –
Current class is

Dust to Glory

by R.C. Sproul. This study provides an overview of the Bible from Old Testament to New Testament.
MEN'S SMALL GROUP STUDY
Calling all men to join a group of guys the 1st and 3rd Monday of the month at 7:00pm as we study the

Essential Truths of the Christian Faith

by R.C. Sproul.
WOMEN'S SMALL GROUP STUDY
Monday's at 3 PM in the Pastor's Office or join us via Zoom.
Join us as we begin a new study on the Gospel of John. Using a series by Margaret Feinberg on Pursuing God, we will see the beauty of God radiated in the person of Jesus Christ a person
in whom we find the invisible attributes of God being made visible. As Margaret says these attributes are to be enjoyed, celebrated, and reflected upon. We will also be "encountering"
Jesus through our own story as well as the stories and scripture found in the Gospel message. This is a message we need to study and be reminded of because it beckons us to love God even more. As Margaret says, "her hope and prayer is that we will be reminded of the work of God in our lives, and that we encouraged to share that beautiful news with others."
♥♥♥
May 28th @ 12:15PM lunch, refreshment, devotional, BINGO, and a complimentary pantry bag of non-perishable food. We have bags that require a kitchen and bags that do not require a kitchen. Please considering coming and invite a friend.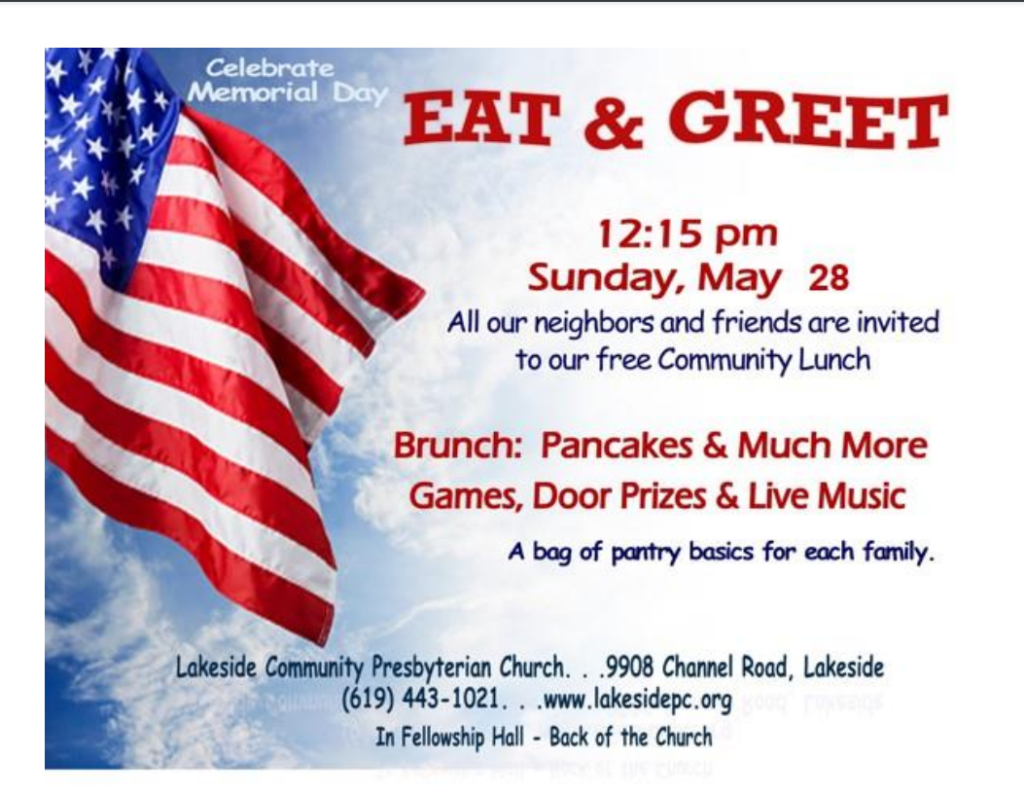 Sunday Worship Service begins at 9:45 AM
Children's Sunday School during Service
Adult Sunday School at 11 AM
Complimentary coffee,
BEFORE & AFTER our Worship Service!
PRAYER
"Rejoice always, pray continually, give thanks in all circumstances;
for this is God's will for you in Christ Jesus."
1 Thessalonians 5:16-18
Please visit our prayer page and lift up the prayer requests sent to us via our website then click on the praying hand to encourage those seeking our good and gracious Father through intercessory prayer by the people of God.
If you would like prayer, after the worship service, Elders and Deacons will be available for prayer.
LCPC MISSION STATEMENT
"We Love God, Love People, and Make Disciples of Jesus"
LCPC VISION STATEMENT
"Growing in love for Christ and for our neighbors

through.
worship, community, and service."
LAKESIDE COMMUNITY PRESBYTERIAN CHURCH
9908 Channel Road, Lakeside, CA 92040
619-443-1021
www.lakesidepc.org
Email: office@lakesidepc.org
Rev. Timothy Avazian (Tim)
Questions or needing spiritual support. Please email us at office@lakesidepc.org,
call us at 619 443-1021 or complete an online prayer request.
Lakeside Community Presbyterian church live streams our services and engages in social media platforms as a means to engage and communicate church activities. This means your image may be visible to the public. Participation in worship or other church events shall be considered consent to the use of the photo as described, unless written notification to prohibit is received by the church office.