"Lakeside Community Presbyterian Church welcomes you. We are focused on the Bible as our sole source of authority for faith and life. It is our deep desire to know Christ, and to make Him known… through up-reach, in-reach, and outreach. Please come and grow with us as we respond to the love of Jesus Christ!" — Pastor Bob Mentze
Sunday Worship — 9:30 AM; Sunday School (for all ages) — 11:00 AM

Nursery available during both hours

9908 Channel Rd. Lakeside, CA 92040 (One block north of Woodside Avenue)
Phone: (619) 443-1021
Sola Gratia – Sola Fide – Solo Christo –
Solo Scriptura – Soli Deo Gloria


Sermons
May 1, 2016

"Hearers, Talkers, Doers" ( Romans 12:14-21, James 1:19-27)

Apr 24, 2016

"Wise Up!" (1Kings 3:3-14, James 1:5-11, 16-18; 3:13-18)

Apr 17, 2016

"Happy Trials to You!" (1Peter 4:12-16, James 1:1-4, 12-16)

Apr 10, 2016

"Give of Your Best to the Master" (Matthew 25:14-30, Romans 12:1-16)

Apr 3, 2016

Hope: You Better Believe It

Mar 27, 2016

Easter

Mar 24, 2016

Maundy Thursday

Mar 20, 2016

A Palm Sunday Cantata (Mark 11:1-11)

Mar 13, 2016

"Peter the Rock" (Matthew 26:69-75, Luke 22:31-34)

Mar 6, 2016

"What Does It Cost?" (Philippians 3:7-14, Luke 14:25-33)
Happenings
CONNECT
Come and find out about who is Jesus. Relaxed coffee shop environment, guitars, singing, prayer, learning, sharing. Come as you are.
May 7th Saturday 9:30-11 AM ,
Eggs, ham, pancakes, coffee.
hosted by Connect Ministries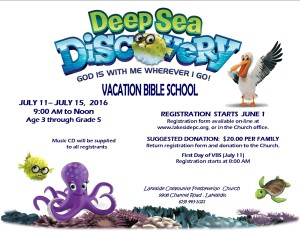 IT'S NOT TOO EARLY TO START THINKING
VACATION BIBLE SCHOOL *7/11-7/15
REGISTRATION BEGINS JUNE 1ST
SUGGESTED DONATION $20 PER FAMILY…..AWESOME!