JULIAN CHRISTIAN RETREAT
Is a Christian oriented family camp located at 4776 Pine Ridge Way, Julian, CA. The retreat is on the outskirts of Julian, a quaint mountain town known for their delicious apple pies, four seasons, and of course the beautiful daffodils in the spring. The Julian Christian Retreat is just 42 miles east of Lakeside on Highway 67/78, or one mile this side of Julian in the Pine Hills area. The retreat is available to families and churches who are looking for a reasonably priced and beautiful location to camp. Several of our youth members have built special projects including an amphitheater and seating as part of their Eagle Scout Service requirement. The camp is equipped with the following:
A-FRAME CABINS –
We have 5 cabins, eight bunks each with heating.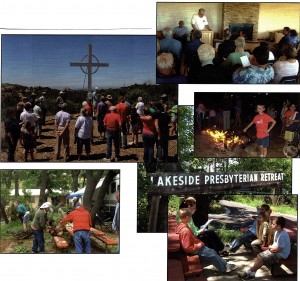 Bring your own bedding (sleeping bag, pillow). The cabins do not have restrooms; however, restroom facilities are in the lodge and kitchen/dining room buildings.
KITCHEN & ATTACHED DINING ROOM –
The kitchen is equipped with a commercial stove and oven, walk-in refrigerator/freezer, microwave, trash compactor, garbage disposal, the dining room seats 40 with a pass through to kitchen for easy access.
LODGE –
Our lodge offers a spacious building for meetings, dances, and has a fireplace and forced air heating. There is an attached equipped game room for use.
AMPHITHEATER –
Enjoy the outdoor amphitheater, seating includes wheelchair access.
RECREATION –
Design your own recreation. There is also a limited amount of sports equipment available for use.
To inquire about cost, what to bring, availability and reservations please call send an email to the church email address at: office@lakesidepc.org