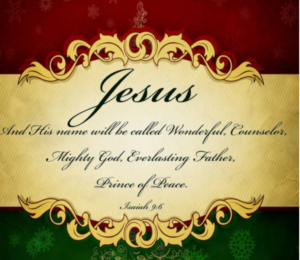 I hope that your first week of Advent is allowing you to prepare for the "arrival" of Jesus and the celebration of His birth on Christmas.

Advent (which has its root meaning from the Latin word adventus which means "coming") is a part of the Christian church calendar. The season of Advent is an invitation for us to grow closer to God, so as you prepare for your Christmas celebrations and Christmas gift giving, consider taking time to prepare spiritually for Christ's arrival as a babe but also prepare for His second coming and the fulfillment of God's Kingdom here on earth, as it is in heaven.

One of the ways that I do this preparation each year is by subscribing to the daily devotional from Biola University's Center for Christianity Culture and the Arts (Here is the link to the CCCA Advent Project devotionals to subscribe and have it delivered to your inbox each day: https://ccca.biola.edu/advent/2021/#). These devotionals, (which include scripture readings, poetry, art and music) are one way that we can prepare for Christ's coming. Let me invite you to make this devotional a part of your Advent preparations.

I also wanted to let you know about some church news. We are welcoming back Silvia Serrano as the LCPC Office Manager! It is exciting to welcome her back to the office and God's providential guidance was definitely a part of allowing her to come back to serve at LCPC. When you get the chance, drop by the office and say "hi" (the church office will be open Monday-Friday, 9am-2pm), Silvia would love it.

Thanks for praying for our church and have a great rest of the week. I look forward to seeing you on the second Sunday of Advent.
---
"Rejoice always, pray continually, give thanks in all circumstances;
for this is God's will for you in Christ Jesus."
1 Thessalonians 5:16-18
Giving thanks is an important part of the life of the Christ-follower. Gratitude to God for His guidance and His blessings is something that we are to do. So in good and even difficult times, we are to give praises to God. With this in mind, it is with much gratitude and praise that I write these words to all of you for my time here at LCPC. God has been good, He has been generous, and He has been trustworthy. I can see His fingerprints on so many different aspects of my year here and I continue to trust Him as together, we move forward in His Kingdom work.
So as we make preparations for next week's Thanksgiving celebrations and gatherings, pause long enough to give God thanks. Even if you are in a difficult season of life, give thanks where you can. Reflect on how He has been faithful in the past. Pause long enough to see His kindness today. Look for the blessings that He has and He is providing. This is a good spiritual exercise to do on a regular basis.
Also, be in prayer for me and my family as we travel to Texas to celebrate daughter Lauren's marriage to Thomas Watson. It will be a grand celebration, Texas style, so we are looking forward to all that will take place.
Y'all have a great rest of the week.
---