Father's Day is June 18th.
God bless you all.
Dear Parents,
With our two Pre-K classes, many of our children will be leaving our school, for elementary school. It has been a great school year and your children are wonderful. We will miss them terribly. We wish all the best for them, academically and in every other way.
We have a special program planned, to honor our children who are graduating from Pre-K and who will be moving on to Kindergarten this fall. All of our students will be participating in our program. You are cordially invited to attend our program on June 7
th
, at 6:30 p.m. in the church sanctuary. Your child needs to be here and at their classroom at 6:15. We will enjoy cookies after the program. Again, all our children are performing in this program.
Please remember, flip flops are not permitted at school. The ONLY exception to this rule is when your class is having water play and the teacher sends home a note saying that it is ok to have them at school, when they are in their swim suits. Another pair of shoes needs to come to school this day as well, so they have something to wear on the playground. Sandals with a strap across the back are allowed.
DON'T FORGET …..DONUTS WITH DAD'S is happening on June 16
th
. We will begin at 6:30 a.m. and wrap things up by 9:30. When you drop your child off this morning, stop in the fellowship hall and enjoy a hot beverage and a donut.
REGISTRATION FOR 2017-2018
If you have not registered your child for the next school year we encourage you to do so immediately.
Just stop by and pick up a registration packet and return it with your check for
$60.00.
The registration fee is needed to secure your child's place in next year's classroom. Packets are available in the preschool office, and in Miss Teri's class, Room 5. If you are not sure if you are "registered" or not, please contact Roxanne, the school secretary. If you need special arrangements made, please call
Roxanne in the office at 619-443-2887.
1 Timothy 3:4 He must manage his family well
and see that his children obey him with proper respect.
********************************************************************************************************
All preschool accounts must be paid in full by the last day of the school year.
It is your responsibility to know when your tuition payment is due. Accounts not paid in full by 30 days from the beginning of the month will be assessed a fee of $15.00 per month. We do not send out year-end statements.
Vacation Bible School (VBS)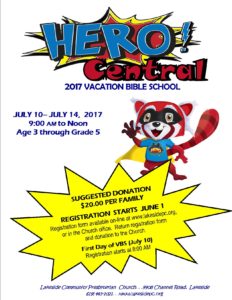 THIS MONTH
June 7th – End of the year program
June 16, Donuts with Daddy
FATHER'S DAY IS Sunday June 18th
June 19 – Summer Session begins
Sign up for VBS – begins June 1st
July 3rd – no lunch, we will be serving hot dogs.
July 4th – PRESCHOOL CLOSED
July 10- 14 – Vaction Bible School
Year-Round Program!
Lakeside Presbyterian Children's Center, offers the following programs
YEAR-ROUND
Children need to bring their own lunch
In addition we will remain open through Christmas and Easter holiday vacations.
Tuition
The cost of half day 8-Noon increased by $5 per week.
The three quarter's day is new (no change)
Full day – no change to price.
All tuition is due in advance, a courtesy statement is e-mailed at the beginning of each month.
**********REMINDER**********
All Preschool accounts MUST be paid in full before the last day of school.
Box Tops for Education
Our school participates in a year-round fundraiser called BOX TOPS FOR EDUCATION. Box Tops for Education coupons are now on over 100 products, plastic, paper, and glass so please look thins over carefully before you toss it out and remove the Box Top for Education couple to turn them into the Preschool Office or to your teach, or with your tuition payment. Thank you in advance and we will keep you posted on the funds we earn for this school year!
Dear Friends,
I never knew my paternal grandfather who passed away a little over a year before I was born. But I have something that reminds me of him on a regular basis. When he first came here from Kansas, he had fruit orchards in the Lemon Grove area. The possession of his that I now have is an "orchard ladder." What makes it different from a standard ladder is that it has three legs. This provides greater stability on the uneven ground that is often found around fruit trees. This ladder makes me think of the three important "institutions" that are needed to make a stable environment for children:
home, school and church.
Each one has a specific role to play; and if any is lacking – just as if one of the legs of the ladder is missing or not on solid ground – some aspect of a person's life can begin to topple. Most of all, parents play an important role in all three of those areas. The role in the home is obvious, with parenting bringing new challenges every day.
Parents also have an important function in connection with the school. Choosing a good school is something that we feel you have already done! But you play an important part in your child's education, whether your child will be here or elsewhere next year. You make yourself aware of what they are doing in school, talk regularly with your child's teacher, and supplement their education by reading to them, and as they get older, with them. The home is also an important part of a child's education in terms of values, morals, and courtesies, and the number one way they learn these things is by observation and imitation of their parents.
The third area is the church. Our school is, of course, a Christian one: we use a Christian curriculum, the children attend monthly chapel time, etc. But early exposure to a worship atmosphere is also very important, whether it be here or elsewhere. And starting that early is critical. On numerous occasions over the years I have had parents bring (or should that be "drag") a teenager to church and tell a story of frustration and rebellion. Then they say, essentially, "I've brought them here, now you do something!" The truth is, it is just as hard to instill beliefs and values at that point as it would be to teach a high schooler calculus if they had never been exposed to basic math along the way. What can parents do? Involve children in church early and regularly. Read them Bible stories and other stories that teach Christian truths and values. Stop by a Christian book store – there are many excellent resources available.
The school and the church are here for you – not to take a parent's place, but to assist with the awesome task of raising your children.
Cordially in Christ,
Pastor Bob
If you would like more information about LCPC, stop by the church office and pick up a brochure and the Spirette, our monthly church newsletter. If you have older children who are middle school, senior high, ask about our youth groups! We would love to have you join us for worship service Sunday's at 9:30 am.
IMPORTANT:
PARENTS, BY LAW YOU ARE REQUIRED TO SIGN YOUR CHILD(REN) IN AND OUT EVERYDAY THEY ARE IN SCHOOL. PLEASE USE YOUR LEGAL SIGNATURE. REGARDLESS IF IT IS READABLE OR NOT, AS LONG AS IT IS YOU'RE USUAL WAY OF SIGNING YOUR NAME. NO MINOR CHILD (SIBLING, ) MAY SIGN THEM IN OR OUT.
CONTRACT INFORMATION
Please note, in your signed contract, it states: no refunds for illness or holidays. The preschool does not give credit for days missed due to illness, holidays, or other reasons
You received the NEW handbook during registration, please take the time to read the handbook to learn the Children's Center policies, rules and regulations.
ILLNESS POLICY:
If your child has a fever, vomits or has diarrhea at school or home, they may not return to school for 24 hours after the symptoms are gone.It is very important to keep your child home if they are not feeling well. If you have any doubts it is better to keep your child home one more day than to send then to school when they are not quite up to it. If your child has conjunctivitis (pink eye) they may not return to school until they have received antibiotic treatment for 24 hours. Remember good handwashing is very effective in keeping disease from spreading. Our policy will cut down on the transition of disease to other children, and our staff.
EMERGENCY INFORMATION
If anything has changed with your emergency or contact information, please contact the Preschool Office so we can update and be sure we have your correct information. When a little one is ill, time is of the essence in trying to reach a parent. In addition if working, please leave-detailed instructions if needed to make it easier for us to contact you at work. Cell phones are not always reliable. We need a back up way to reach you.