Message & Music
May 2019
"The Word Became Flesh" by Pastor Randy Yenter. Anthem, "The Upper Room" by Rink, sung by Joyful Noise Choirs. Released: 2019. Track . Genre: Message and Music.
---
Lakeside

Community

Presbyterian Church
9908 Channel Road, Lakeside, CA 92040
About Us
& Upcoming Events
Volunteers
Love to sing? Do you play an
instrument? Praise Team
"Joyful Spirit" &
Choir "Joyful Noise" invite you
to join us –
Thursday practice @ 6:30pm.
Sunday AM worship service.
Sound support needed
Sunday morn.
Learning – Growing Your Faith
LAKESIDE COMMUNITY PRESBYTERIAN CHURCH
A blend of traditional & contemporary Worship service
complimentary refreshments following service
Children's Sunday School at 9:30am
Adult Sunday School at 11:00am
"A Confessing Presbyterian Church"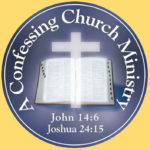 Sola Scriptura – Sola Gratia – Solo Fide – Solus Christo – Soli Deo Gloria